Al Nassma Imported Camel Milk Chocolate Bar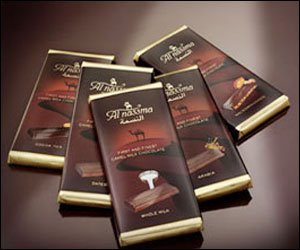 Al Nassma Imported Camel Milk Chocolate Bar
A chocolate LOVER'S new FAVORITE chocolate! We over-night-ship our Al-Nassma, gourmet camel milk chocolate bars from Dubai in the United Arab Emirates. So .... if you are wondering why it is so much more expensive than your average hershy bar... now you know why. Oh.. and these bars weigh in at 2.46 oz where a Hershey bar weighs 1.55 oz.



This is not just the most delicious camel milk chocolate we have ever tasted... it the most creamy, delicious, decadent gourmet chocolate we have ever tasted... PERIOD!
Hard to pick a favorite? Well we have tasted them all... just so we can be of assistance of course! We will try our best to help you decide:
If you want to really get the taste of camel's milk, then definitely start with the milk chocolate. As folks that drink fresh camel milk every day, we can tell you that the light, unique taste comes through. Each bar is 21% chocolate!

If you are adventurous and like to spice things up... WARNING.... the Arabia Spice is an exotic mix of spicy sweetness that you won't want to share!

The 70% DARK chocolate is pretty much the most delicious dark chocolate we have ever tasted. It is only 2% camel's milk but

If you are crazy about those chocolate oranges... then you will be crazy about the crushed macadamia nut/orange.
NOTE: YOU ORDER THE BARS INDIVIDUALLY. THE PRICE PER BAR IS $12.00
INGREDIENTS: the third photo is the back of the whole milk chocolate bar. The fourth photo is the back of the 70% Cocoa bar. The other bars also contain unique ingredients like orange, nuts, dates and spices; depending on the variety.
EXPIRATION DATE: Al Nassma Chocolate is made and labeled in Europe. The date is NOT written: Month/Day/Year.....
They write the date DAY/MONTH/YEAR. Sometimes people read the wrapper and think the product is expired. Make sure you read the expiration date correctly. For example, a bar with an exp. date of Sept 2, 2016 will read 2/9/2016
Wow... it's like eating chocolate makes you worldy! Nice.
Yes, we have to charge sales tax. I know! We couldn't believe it either. But here is the information: http://taxfoundation.org/article/quick-tax-quiz-when-candy-bar-not-candy-bar-4
Reviews