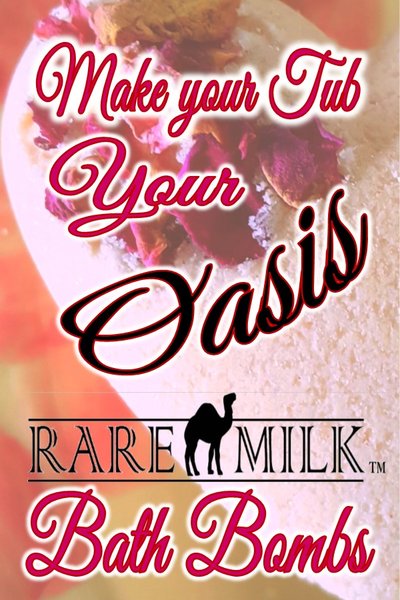 Camel Milk Bath Bombs
A luxurious addition to our RARE MILK Camel Milk Skincare Collection; you will LOVE our bath bombs! Artisan crafted with real, pure camel's milk and the finest skin quenching oils: organic rose hip oil and organtic borage, these fizzing bath delights will keep you soaking in heavenly scents and leave your skin; and your spirit, feeling refreshed!

Sold individually and also as part of our Camel Milk Bath and Body Bag (a great value!)
Ingredients: baking soda, citric acid, arrow root, Epsom salts, camel milk, alcohol, water, organic rose hip oil, organic borage oil, avocado oil,
plus: Milk and Rose: white rose fragrance oil and litsea bubebba essential oils
Milk and Lavendar: Lavendar and Ylang-ylang essential oils.
Milk and Orange: blood orange, mandarin and litsea bubebba essential oils.

Reviews